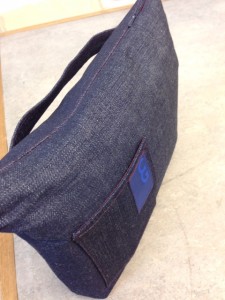 Men have finally caught up with women and realised that we have been right all along! Carrying your belongings in a bag is a lot easier then stuffing your pockets full, especially in this day and age. With our ever-growing reliance on technology, men now have a lot more things to haul around. iPhones, iPads, iPods and laptops have become a necessity in day to day life, which is probably the main reason why men have adopted our habits in carrying bags; for all of that 'i-stuff'.
According to the market intelligence firm Euromonitor, bags intended for men make up nearly a fifth of the luxury handbag market, and are continuing to climb.
Of course style is an important factor when choosing your 'man bag', but let's face it, not all men are brave enough to rock a leopard print Burberry Tote bag.
When talking to a client, Ken Musprat, who commissioned a bag from Clariscia Gill's Couture Accessories service, we asked Ken what it was he was looking for alongside practicality and functionality. Here is what he told us:
1.What were your needs for the bag?
To keep all my i-stuff together as I constantly misplaced them.
2. Had you tried to find a bag to suit your needs?
Looked online and also on high streets to no availability.
3. Has the bag met the needs?
The bag is great, now I know where everything is and with their relevant cables and plugs.
4. Please add any other comments you may have
So much easier to work with you direct to explain how I wanted everything Laid out for ease of access.
As you can see in this picture, Ken is delighted to have all his 'bits' in one place …;-)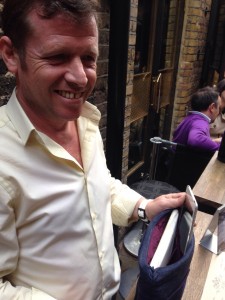 BY Kessie White