What better setting could you have for showing a couture fashion collection than in the beautiful, jewel, tropical Island of St. Lucia.  The island was fought over no less than fourteen times by the British and the French; both besotted by it's charm.
Clariscia Gill was honoured to be one of a select group of emerging and established fashion designers who displayed their creativity via the form of exquisite couture clothing at the 2016 St. Lucia Jazz and Arts Festival.
The festival this year celebrated it's 25th anniversary and as a result, travel agents reported a big rise in bookings from those not wanting to miss out on the many festivities planned.  Events took place throughout the Island to make sure the Landmark celebration was one to remember.
Conducted under the auspices of Cinnamon Productions, headed by Joycie Mederick – the Hot Couture Fashion Show was declared a resounding success.  The beautifully colourful, exotic and grand floral arrangements that graced the eyes on arrival, were a sure precursor of the evenings delights to come.

With VIP tickets sold out well before the show, a packed house was the order of the night and a well received success for St. Lucia's 2016 Hot Couture.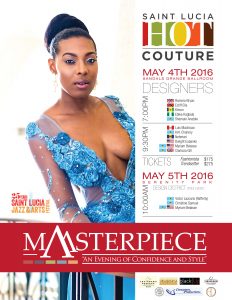 Save
Save