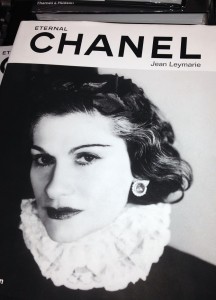 The Saatchi Gallery was home to one of the most popular London fashion exhibitions of recent times, the Mademoiselle Prive. Those who braved the enormously long queues were rewarded with a free compacted visual summary of the life and times of the haute couture legend and famed fashion designer, Coco Chanel who was born, Gabrielle Bonheur Chanel on August 19, 1883, in Saumur, France.  Her early days as a creative designer were rooted in millinery and followed by jewllery design.
Coco Chanel pretty much was the trailblazer in establishing what we now know as fashion product branding. The masterful genius branding of the Chanel No 5 perfume, see's the product virtually unchanged since it's arrival in 1920. Coco Chanel chose the vial labelled No. 5 from the perfumes she had commissioned as she used to always present her dress collections on the fifth of May. Coco saw this vial as an omen of good luck and she was right. It certainly bode her well when a later long battle over ownership of the perfume ended favourably for her with a 1924 contract being renegotiated and leaving her then as one of the richest women in the world, with a projected annual income from the perfume alone, of $25 million dollars.
Coco was a very keen horse rider and was not happy that women had to wear, long full voluminous riding skirts, whilst on horseback. This meant having to ride side saddle, a situation Coco saw as ridiculous so she decided to do something about it. It led to her designing the first ever horseback riding trousers for women, much to an uproar of dissatisfaction by many at the time.
Clariscia would like to give special thanks to Jenny Marquis-Brown for kindly allowing us to use her photographic images.